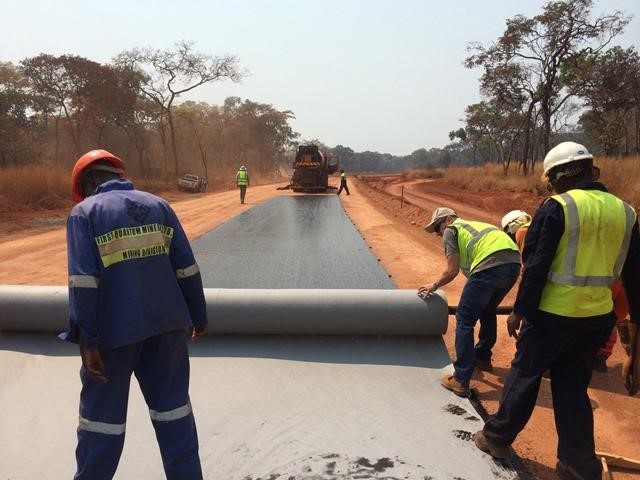 "American roads are not good because America is rich, but America is rich because American roads are good" famously said former US president J F Kennedy. Roads act as arteries for any prosperous nation. While we all know roads are made of cement, asphalt and gravel there's something else no one would've ever thought makes a part of stronger roads for better commute. That something is textile! Geotextiles like polyester and polypropylene have proven to be an effective tool for safeguarding roads and improving their longevity.
Let us admit that we all have spent hours in back-breaking potholed roads. Indians, especially people who take the roads and pay for tolls demand safer, faster and world-class highway on-the-go. Geotextile play an integral role making bump-free roads possible. Geotextiles have multiple advantages when used in roadway projects. They can extend the life of the paved road by helping to reduce the number of potholes.
Paving of geotextile sheet during construction phase significantly reduces the number of times roads need to be repaired.  As long term maintenance contracts become standardised in India, toll operators and road contractors are turning towards geotextiles to achieve high quality road pavement and financial viability.
Interested in visiting Techtextil India and World of Composites. Pre-register to visit now!
Geotextiles make our drive smoother
In construction and landscaping sector, geotextiles has become fundamental in solving an increasingly diverse range of global geotechnical and environmental problems. Factors like rain, sunshine, soil conditions, utility pipelines, axle loads etc severely affect the service life of roads. When moisture sips through gravel towards the sand below, the bitumen asphalt laid on the road cracks. Geotextile sheets act as a separator between the subsoil and aggregate layer of roads, making our drive smoother, safer and faster.
A Ministry of Textiles report 'Handbook on Geosynthetics' state multiple long term benefits of use of geotextiles in various industries. Geotextile fabric have high elongation and low tensile strength and are used to reduce the geotechnical pressure on roads. Geotextile fabric is well saturated with blazing hot bitumen. This avoids stretching out of the fabric and allows water to move through the soil while restricting the movement of soil particles. Geotextile's  vital chemical property of allowing free flow of water opens up new avenues of practical implementation against soil erosion and sedimentation.
"With renewed focus on Bharatmala, road sector is at all time high. Geotextiles due to its multiple advantages have become an integral part of road engineering. We are positive on the industry's future growth. Until now, use of geotextiles in the construction industry was far fetched thought. International symposiums like TechTextil played a key role in promoting such innovative ideas worldwide." - Minali Jain, Suntech Geotextile Pvt Ltd.
Man-made changes to environment like unchecked development, mining in river bed, deforestation, etc. is costing us badly. Every year, lakhs of hectares of fertile agricultural land is swept away in Ganga and Brahmaputra floods. An ICAR and National Bureau of Soil Survey report indicates that Geotextile bags can save our riverbanks from severe soil erosion. These bags are also widely used by infra companies during construction of sea/river bridges and any other hydraulic structures.
Utkarsh Parikh who heads Geosource, a leading a geosynthetic bag provider has said: Geotextiles like geo bags and geo tubes have proved to be effective in protection of river banks, beach protection and offshore breakwaters. We have received prestigious order for installation of geo bags from Assam and Bihar and we are upbeat about future growth of industry.
Paving a strong foundation
Demand for geotextile products is rising in developing countries, such as China, India, and Russia, due to robust infrastructural projects. Geotextiles are being incorporated in major infrastructure projects like expressways, renewable energy, on-shore wind farms, dredging, alternate public transportation projects like light metro. In addition to the 'sustainability' benefit of geotextiles, one of the key advantage is the potential to reduce the overall construction costs and improving financial viability of proposed projects.
The global geotextile market size is anticipated to reach USD 9.1 billion by 2025, expanding at a CAGR of 12% over the forecast period.
Paving the way for innovations in this space are brands like Geo Source, Suntech Geo,
Pacific Harish, Infiniti Techtex,  Autotech nonwoven, Leister Technology India Pvt. Ltd.
Sioen Industries amongst many others who will be seen at the upcoming edition of Techtextil India from 20 – 22 November, 2019 with their latest advancements.
What are the upcoming Geotech advancements that you would like to see? Share your thoughts with Techtextil India on our social media channels like Facebook and Twitter.